AS PROMISED HERE ARE SOME MORE LOVELY ART DECO ERA TRAVEL ITEMS FROM AJAY'S COLLECTION. This time we focus on hotel ephemera.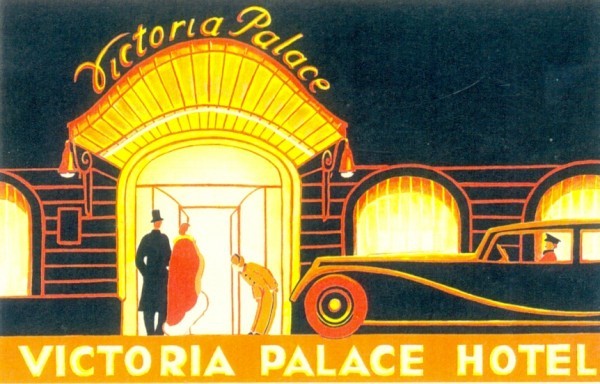 Spectacular with a small colour range. The image is 'off centre' whereas symmetry is a strong feature of some of the other designs.
According to nycago.org
The Barbizon-Plaza Hotel, located on Central Park South between Sixth and Seventh Avenues and extending through to 58th Street, was designed in a Modern Classical style by Laurence Emmons, architect and decorator, who worked with the architectural firms of Lloyd Morgan and Murgatroyd & Ogden. Built at a cost of $10 million, the 38-story building originally had a hipped roof that surmounted its relatively slender tower. The roof was constructed of narrow ribs of reinforced concrete that alternated with small glass tiles set on their edges; on a sunny day the tiles sparkled, and at night they were illuminated from within to create the illusion of moonlight. At some point, possibly during World War II when nighttime illumination was prohibited, the roof was redesigned to its present form with a gilded roof.

When it formally opened on May 12, 1930, the Barbizon-Plaza was noted as the first music-art residence center in the United States. In addition to 1,400 rooms with baths, the building also contained three separate halls for concerts, musicales, recitals, amateur dance and dramatic offerings. There were many studios for sculptors and artists, exhibition rooms, clubrooms, and a glass-enclosed roof for indoor and outdoor athletics. Art galleries, exhibition salons and a completely equipped library were also included.

With the onset of the Depression, the hotel management struggled to keep up with the mortgage, but after only two and a half years the property was foreclosed and sold at auction in July 1933 for $4,553,238.
This hotel was built at great speed and completed in 1939. It still stands but with a vast 1960s addition.
This may be a little later; the focus is not on the smart exterior of the hotel but rather entertainment, nightlife, relaxation.
This is a sticker restricted to straight lines and a modest range of colours. The hotel was revamped and is referred to everywhere as the New Hotel Roblin.
Once more we have just dipped our toes in AJAY's collection. More to come.