ANDREW H., PRESCIENT COLLECTOR, yes once again we raid his collection for a sadly topical look back at fires in the bush and bushfire (prevention) ephemera.
This next one might appeal to our current government with its message to 'protect your national asset'. 
Forests Commission of Victoria – publisher of ephemera
The Forests Commission of Victoria operated from December 1918 to November 1983. It produced the blotter, postcard and a series of posters and a film about bushfires.
Bushfires – 1926
Bushfire was a major focus for the newly formed Forests Commission. Throughout February 1926 uncontrolled bushfires burned across Gippsland and the Central Highlands and destroyed large areas of valuable mountain forest. Sixty lives were lost in addition to widespread damage to farms and homes. The fires came to a head on 14 February, with 31 deaths recorded at Warburton. Other areas affected include Noojee, Kinglake, Erica and the Dandenong Ranges. The Minister for Forests, Mr Horace Frank Richardson and a couple of the Commissioners, William James Code and Alfred Vernon Galbraith were on tour in Gippsland and were almost dangerously caught in the fires on 4 February near the Haunted Hills west of Moe.  The Commission later produced a film to raise money for fire victims. During the same decade the earliest recorded use of fire by a Government land manager to reduce fuel levels on public land occurred in Victoria.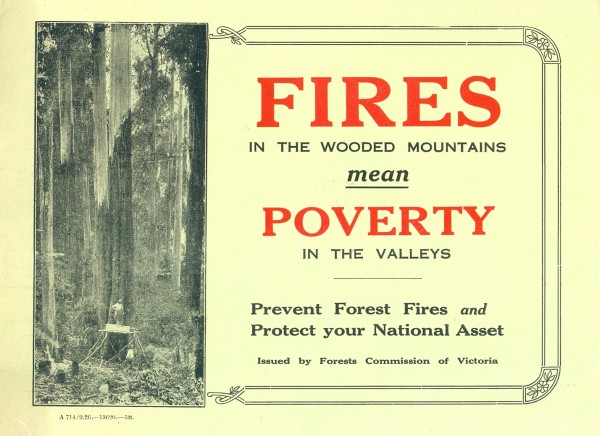 This blotter seems to be direct response to the summer fires.
The postcard below was tilted accidentally but we can still see the relatively modest size flames causing havoc.
The next wonderful piece is a booklet for children reproduced by Margaret Mary Pearson. The rest of the fine print on the last page advise that it was printed by McCarron, Bird & Co., Printers, 479 Collins Street, Melbourne. It is a publication from the National Safety Council of Australia [1945].
By 1946
BOMBING OUT BUSHFIRES Two Mustangs dive-bombed a fire at Point Cook, using chemical.. bombs, as part of the R.A.A.F.'s experiments and research into anti-bushfire measures. The target was an area measuring 200 feet long by 30 feet wide, which had been heaped with dry palliasse straw spread over wooden racks and sprayed with oil. When this was ignited it became a raging fire within a few seconds, and two Mustangs each – armed with two chemical bombs dive-bombed it. The first bomb hit within a few feet of the target and extinguished half the fire immediately. The three successive bombs fell within a radius of 50 yards and scattered its chemical over an area of 500 square yards. Mr. H. Lawrence, who represented the Forests Commission of Victoria at the test said afterwards, "There is little doubt that the suppression of spot fires by this method will be adequate, provided the liquid can be sprayed on to the fire. However, the difficulties to be encountered in thickly wooded and irregular terrain will constitute a very different problem."We "We have learned much from the experiment this morning, but we will learn more from the tests which will be conducted .shortly under actual forest fire conditions."
Sadly the use of the koala in this CFA postcard seems misplaced, as we now know they climb high to try to avoid fire and often get burnt.