ABOUT THE AUSTRALIAN CARTOPHILIC SOCIETY INC.
  Origins (1968)
The Society was formed when a small group of cigarette card and trade card collectors, led by Bon Penhallurick, got together in Toorak in July 1968. The numbers grew steadily and early in the piece collectors of postcards joined the Society. Membership numbers have hovered around the 300 mark for many years.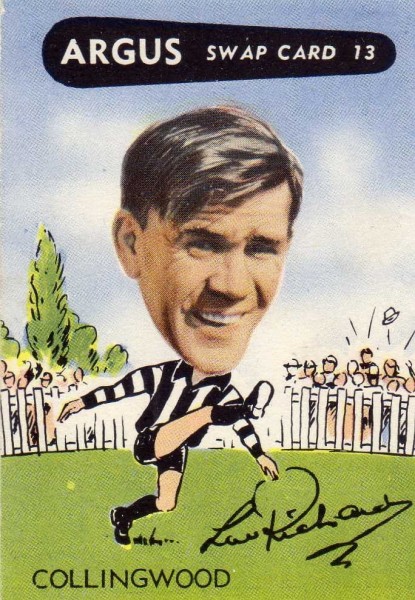 Meetings, newletters
We conduct six meetings a year, on the second Tuesday of February (AGM), April, June, August, October and December. The December meeting is a Christmas "feast" and an in-house card display competition. We issue six bi-monthly Newsletters that feature relevant articles and our Postal Auction. The Auction categories are: Postcards, Cigarette Cards and Trade Card with, generally, 100 lots of each group. There is no Postal Auction in our December Newsletter.
The fairs 
The highlights of our year are our five Card Fairs that are held in the Masonic Hall, corner of Rowans Road and Isabella Street, Moorabbin. (Melways 77 H7). The Fair features 40+ tables with an even distribution of the three card categories. Apart from cards many traders have ephemeral items on their tables. Australian Rules football collectors (or should I say fanatics) make up a good percentage of patrons. Fair hours are from 9.30 am to 3.00 pm. and are held on Sundays.
The collectors
 Postcard collectors have a very wide range of topics to collect with Australian subjects being very popular. Glamour, Topography, Royalty, Militaria, Sport, WW1 Silks, Railways, Trams, Aviation and Comic cards are among some of the other themes available.
The Cigarette/Trade card field is dominated by Aussie Rules footy cards with Cricket not that far behind. Of course pretty much every subject is covered by these small works of art, so the collector is never short of something to chase.
The Society produces albums and plastic sheets for the cigarette/trade collectors and has a stock of card-collecting related reference books for sale.  
How to join
Our website australiancartophilic.org.au contains further information, including membership details and how to become a member.