ARE YOU COLLECTING THE EPHEMERA OF TODAY'S PANDEMIC? Our institutional collectors will be interested, the National Library, state libraries, state museums and of course local history collections as the effects have varied from place to place. My own collecting comes from the letterbox, home deliveries and on the street business spruiking.
Mainly about food
Domino's promote their 'zero contact delivery'. Card flyer printed both sides, 12x23cm. Probably from a letterbox drop.
At the other extreme, is a menu from Attica, delivered by an apron-clad and gloved waiter with a bag of food from the very serious restaurant in Elsternwick, Victoria. The menu starts with the note:
Firstly, thank you so much for your order. You are supporting small business and keeping people employed..' Single-sided on brown paper, 21×15.2cm.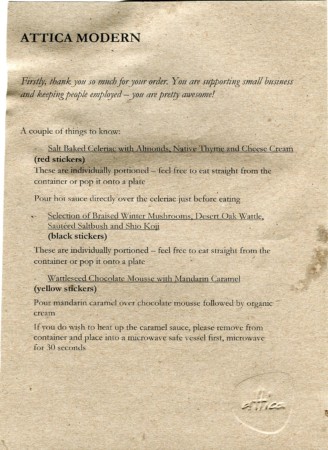 The final food item in what is a limited selection was picked up during a walk past the Grand Hotel in Burnley St., Richmond. The trifold, 21x10cm flyer, offers bread baked on the premises and the meat and cheeses usually used in their meal preparation. They also offer to deliver (or pick up) 'Grand dinner'.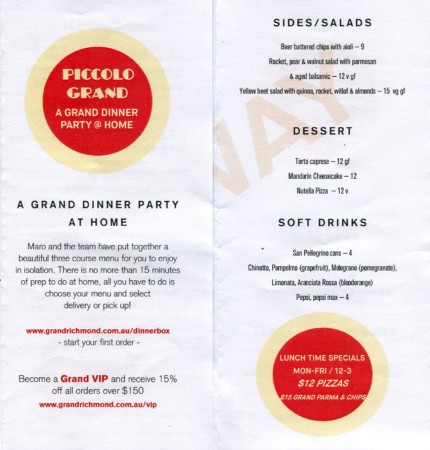 Happy about the handling of the Covid 19 response?
This is the other theme in the ephemera:
This flyer is produced by 'Craig a Melburnian who works in IT'.  This copy was letterbox dropped in Balaclava in August 2020, 21×10.2cm. Craig is a promoter of personal hygiene and social distancing and opposed to curfews, compulsory face masks. He supports unlimited outdoor time, small gatherings in homes, and business opening if they have a COVID safe plan. This is a middle of the road demand for fewer restrictions; he believes there is a pandemic.
Warped from a day or two in the letterbox, this flyer, on card 10.2×20.8cm  is authorised by the Australian Labor Party's Senator Kim Carr and uses the pandemic as a context to promote an established policy to rebuild local manufacturing. Probably delivered in May or June 2020. Here is the verso: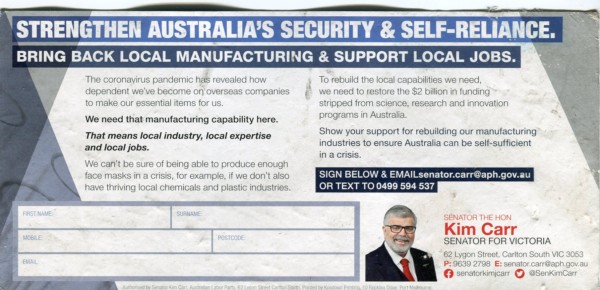 No doubt many of you have more interesting collections and we would love to get scans that we could add to the website.