MARCH IS WOMEN'S HISTORY MONTH – HERE IS THE RECORD OF ONE WOMAN'S OF POLITICAL ACTIVISM – THE COLLECTION IS STILL BEING ADDED TO
Monica has a spectacular collection of badges and ribbons is displayed on a wall hanging in her flat. This is a record of her political activity – causes she supports, marches she has been on. The badges could form the basis of a wonderful political quiz night – who can remember the cause and period for each badge. We had a go.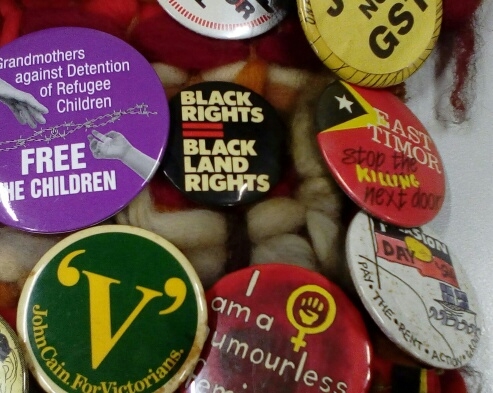 Take a close look here and you can see amongst others:
older badges – 'V' John Cain, ALP election campaign badge, from 1982-1990 (his term in office) and 'No GST' which would date from John Hewson's unsuccessful federal campaign in 1993;

newish badges – Grandmothers against Detention of Refugee Children – in September 2014 they were described as a

 

newly-formed group campaigning against the detention of asylum seeker children who held a launch today on the steps of St Paul's Cathedral. Grandmothers against Detention of Refugee Children has grown out of a meeting of friends last April and now numbers over two hundred, according to Dr Gwenda Davey, one of the founders.
This is a close up of a handmade ceramic badge from 1994 when activists were campaigning to get the Northland Secondary College reopened. A report in the Age 8 November 2003 noted:
If you remember back to 1992, Northland was then a run-down school in the Labor heartland of East Preston. It also had the highest proportion of Aboriginal students of any Melbourne school. It was one of about 350 schools closed as part of the then government's education cutbacks, which also included getting rid of one in 10 state school teachers and slashing millions of dollars from the education budget.

(A good few of the closed schools were sold and reopened as fundamentalist Christian or Islamic schools.)

The Equal Opportunity Board ordered Northland to be reopened, twice. The government appealed, twice. After a two-year legal battle that ended in the full Supreme Court (and cost the Victorian taxpayer around $4 million), the school opened again in March 1995.
Once again we have a snapshot of important issues for the left – East Timor, Aboriginal land rights, opposition to Peter Reith (the MUA Patrick Brothers' dispute (1997/1998) not the 'children overboard' (October 2001)).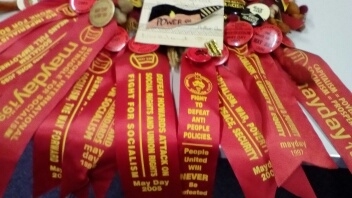 The hanging, and our post, ends with a skirt of May Day ribbons. This is a great select collection documenting a woman's political activism.