HAVE YOU BEEN OFF THE BEATEN TRACK AND FOUND A SHOPPING STOP YOU CAN RECOMMEND?
Here are a couple of recent finds from Central Victoria (Trentham Books, Di Parsons 0448, 760 563, 19 Victoria Street, Trentham):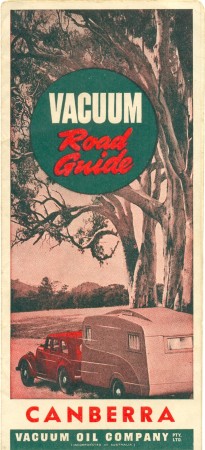 This map and guide to Canberra is annotated as being collected from the Canberra Tourist Bureau on 22 May 1947. The owner also ticked items on the 'What to see in Canberra' listing. We don't know if they were visited or not. We hope they were as the guide 'helpfully' comments:
There are only a few places of interest to visit in Canberra. The National Capital city is a holiday paradise in a perfect setting….rest, scenery, comfort, friendship and history in the making.
This may be why the cover shot shows no Canberra landmark buildings.
This is not so obviously interesting in terms of content, there is a detailed series of maps of towns and regions. It was purchased for its cover (and good condition).