TREVOR HAS A GREAT EYE AND THUS GREAT EPHEMERA ON OFFER AT THE FAIR: footy, hats and wine to name a few.
This item deserves attention: a significant local manufacturer in Victoria whose claim to fame includes employing a young Sidney Nolan although the artist here is James Northfield . 
Colours on offer appear to be 'Drab' and "Clove'. The handwriting is an affectation.  And it worked on me!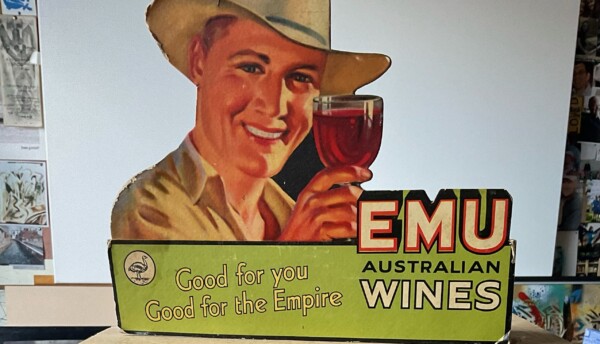 Rosy cheeks or a warm glow? One of the effects of drinking Emu Wines, point of sale. Lovely. There is more about the company here.
WHERE: Parkview Room, 340 Camberwell Road Camberwell Vic.
WHEN: 8.45 am to 2 pm (Ephemera Soc members get early bird entry at 8 am)
To join the society go to  this link 

Tickets: $5 adults. $4 concession, kids free.