TALKING SHOP: BALLARAT IN BUSINESS AND CITY LIFE, historic photographs, advertisements and ephemera, exploring the shops and businesses of Ballarat's past, and contemporary photographs from The Ballarat Life. This exhibition runs until 27 April 2019.
Curator Amy Tsilemanis from the Ballaarat Mechanics' Institute (BMI) has unearthed promotional material used by stores and shops to promote their businesses and these are displayed using the photographs from the  Max Harris Photographic Collection.  (The Collection was donated gift to the the BMI by the Haymes family in 2016. The photographs show  new angles and views of the of the Ballarat.)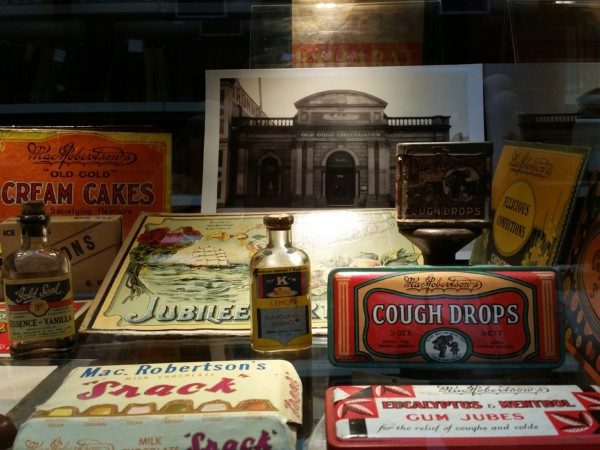 The photographs are a reminder of the architecture of Ballarat that has disappeared, along with the businesses and staff. The glorious Carlyon's Hotel on the corner of Sturt and Albert streets, long since replaced by a dull brown brick facade, its cast iron balconies destroyed, is just one. Harry Davies & Co. department store is now a soulless single-storey bank.
The retail promotional material includes good quality wooden coathangers from David Moyle and Co. clothing shop,  beautifully embroidered ribbons from Tunbridge's furniture store. Stansfield & Smith (decorators, sign writers, picture framers, oil, colour and glass merchants of 119 Sturt Street) handed out thermometers announcing the latest wallpaper patterns – 'Nothing like them in Ballarat!'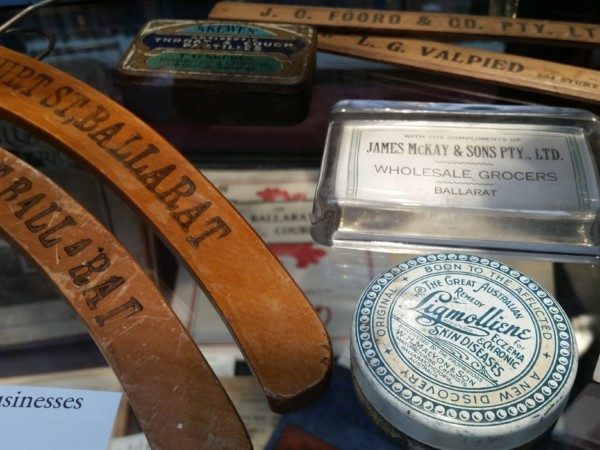 Tsilemanis says the exhibition continues the BMI's series of projects telling Ballarat's stories via relevant themes and imagery, such Gardens in Spring, the 1938 Floral Festival, Beers through the Years, Storytelling the City and Motoring through Time. "The exhibition will take a generative approach – not a complete 'show' from the start, but evolving as more content and stories are contributed, and artwork is created, inspiring further inspiration and involvement with these significant objects and stories, made of the everyday people of Ballarat".
Special events include:
on Saturday 2 March  community day and book sale. Ballaratians are invited to bring photos, ephemera, memories and stories to share and add to the BMI collection. Restock at the book sale. Then home to a nice cup of tea.
Opening hours: 
Mon-Fri 10-4, Sat 9.30-12
Gold coin entry in the library.
For details of the special program to close the exhibition on Friday-Saturday 26-27 April go to this link.