CONTINUING A REVIEW OF THE HIT CHARTS THAT HAVE BEEN SENT ON TO THE STATE LIBRARY OF VICTORIA'S COLLECTIONS. This EON FM 92 charts range from 8 July 1982-20 October 1988; they published a weekly list of top 40 singles, top 30 albums and seven or eight 'airborne' singles.
EON FM was Australia's first commercial FM radio station, broadcasting from one minute past midnight on 11 July 1980. The licensees were two industry entrepreneurs Bill Armstrong and Glenn Wheat. They were beaten in the ratings by the AM stations. EON FM struck a new path; they didn't focus on albums like the other FM stations. Rather they played Top 40 hits and staged outdoor concerts.
Our sample charts seem to belie this wikipedia information as clearly albums were given the same attention as singles.

4 October 1984
By 1985 EON FM topped the Melbourne ratings. They also produced a distinctive piece of ephemera: the blue-and-yellow 92.3 EON-FM bumper sticker – classic setting, a tradie's tool chest . But we seem to have found a blue and white only sticker. 
Member Simon C sent in this photograph of his sticker in situ on car window: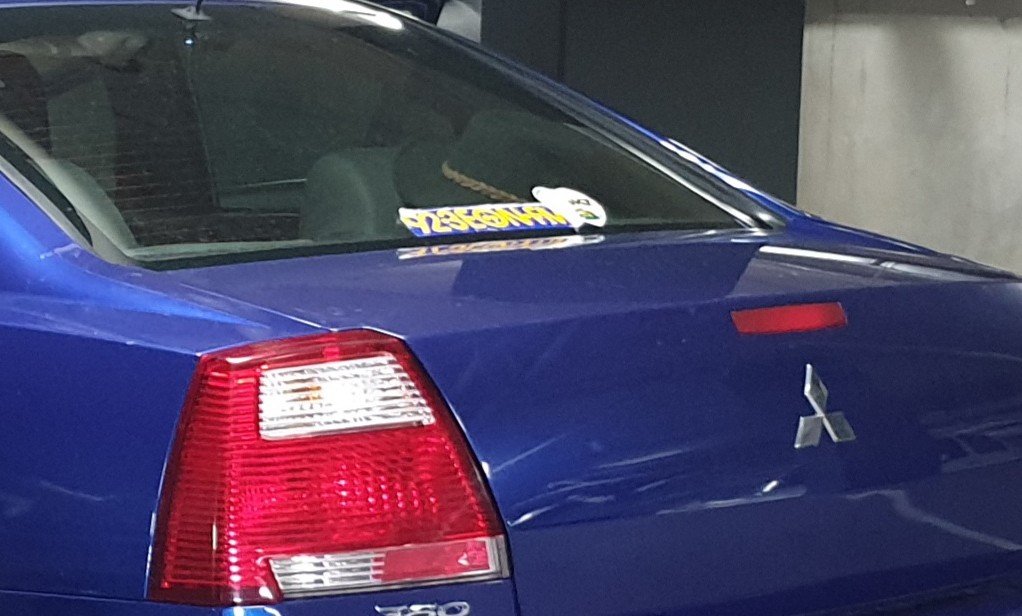 These blue and white semi glossy A4 sheets would have been sought after as the back had a photograph of bands and solo artists.
From June 1987, this sample includes more local bands like Cattletruck, Party Boys, Midnight Oil and Boom Crash Opera. Sponsored by Hoyts Cinemas and then in 1987 by denim shop, In-jean-ious the charts also advertised different EON programmes – like '92 songs in a row' and 'Homegrown'.
The same design is followed when EON was taken over by Triple M, a Sydney based station, on 27 November 1988. A new smaller colour chart (21×14.8cm), more complicated and harder to read is represented in this sample by the date range 15 September 1989-28 June 1990. The detail includes albums' and singles' rank this week, last week, highest point and weeks in the list. As well as Top 40 albums and singles, there are: Top 10 CDs; concerts, Top eight at eight; and 'New Music' which appears to be new releases.