CONSEQUENCES OF QUARANTINE, this early record of European quarantine at Port Jackson, including the burial ground.
According to the Australian National Maritime Museum:
Steel engraving titled 'Quarantine Burial Ground, Port Jackson' after an artwork by John Skinner Prout from around 1837 [sic]. It was engraved by Arthur Willmore and appeared as plate six in the book 'Australia' by Edwin Carton Booth, London, Virtue & Co., 1874, Volume VI.
The quarantine station located at North Head, near Sydney, was declared an official quarantine ground on 19 July 1837.

From the early 1830s until 1984, nearly 16,000 people passed through the doors of the Quarantine Station in North Head near Manly. The site was a source of both hope and despair for many arrivals, an idyllic location on Sydney Harbour yet cut off from the new life in Australia they had travelled for.

John Skinner Prout was born in England and emigrated to Australia in 1840. He and his family first settled in Sydney, but when work for the artist was not forthcoming they moved to Van Diemen's Land in 1844. In the smaller colony he was more successful and he presented lectures on art and produced a folio of lithographs titles 'Tasmania Illustrated'. Prout returned to England in 1848 where he lectured on life in the colonies until his death in 1876.
Given that Prout didn't arrive in Sydney until 1840 it seems unlikely that the artwork could be from 1837. Interesting experience for all amateur historians, I queried this yesterday with the Maritime Museum and they have amended the entry to say the artwork was from around 1840.  So don't be shy.
Work of the quarantine stations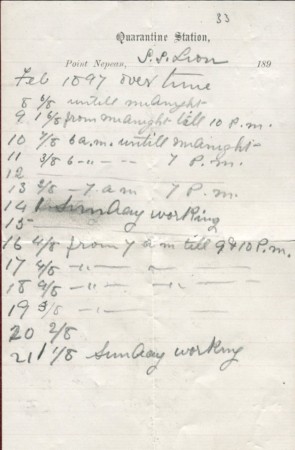 From February 1897, this is a record of overtime worked in relation to the arrival of the SS Lion. the remaining pages are hard to read. Anyone able to decipher is welcome to assist via the comment box. It looks to be a shopping list or a list of equipment that has been received?
From 1919, the work (and play) performed by South Australians quarantined at Jubilee Oval is captured in this photographic spread.You can see the whole booklet.
From the top left the photographs are of:
Leaving Melbourne; Arrival home; Instructions;
Our home;
Daily duties; Disinfecting; Dishwashers.