AT OUR LAST SHOW & TELL, I BOUGHT  A FEW, AND THEN PICKED UP A BOX OF NO LONGER  LOCAL BEER COASTERS. Like the long gone commercial blotter, they combine the ability to soak up excess fluid with an image. Unlike the blotter, the coaster needs to be able to absorb on both sides, so the printing process has to be quite different.
One problem, for me, they can be low on information about the location of the venues like the Euro and the Whisky Hotel. Maybe the Social Club is not for me, seems to be men only.
Bill Posters looked to have more potential for identification. But not so, can any NSWelsh advise?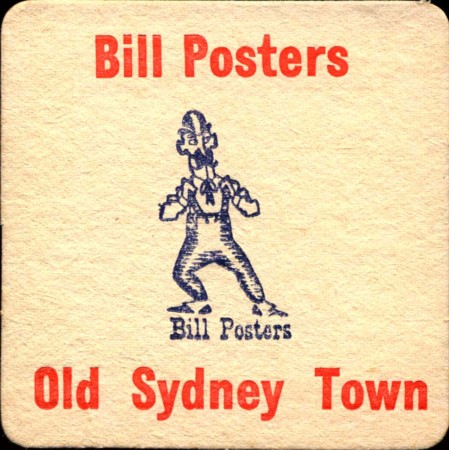 Of course it's not always an issue. Plenty of information overwhelming the graphics for this motel.
Others can be investigated like his bar which is still operating in Cairns according to Google.
Some coasters are not venue specific, like these vodka and fruit juice drink blotters.
Others seem to have been produced as souvenirs for a one-off event like this football victory. 
This is a great collecting area – cheap, free, easy to store, encourages visits to venues, and often strong graphics.